---

Mirage

Yuji Oda MUSIC PROMOTION FILM
16mm Film NTSC/D-2 Transfer

Photo Sequence.

Director of Photography Seigo SAKAMOTO

---

ALL AS ONE

LOVE NOTES MUSIC PROMOTION FILM
Super16 NTSC/D-2 Transfer

Behind the story of New Zealand location and
also Tokyo stage shoot.

Director/Director of Photography Seigo SAKAMOTO

---

100th YEAR OF THE BATON PASS
Corporate Industrial Film for Panasonic

A film of the Centennial history of the Olympic Games.
Awarded the "BEST PROMOTIONAL FILM" made in 1995 at the Dentsu Advertising Agency Awards.
On location filming took place at the IOC Olympic Museum in Lausanne, Switzerland.

Director of Photography Seigo SAKAMOTO

---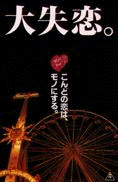 Toei Film Company
A motion picture film "Daishitsuren (Broken Heart)".
Directed by Kazuki OHMORI.
Worked on as a "Camera Operator" for Los Angeles based
Director of Photography, Makoto WATANABE, J.S.C.
I have featured interesting equipment and production stories
of the Japanese feature film making industry.

---
Please note: All of the above images are presented here for non profit demonstration purpose only and are copyrighted. Please do not distribute or copy.


---